International Call: RiseUp, Defend Rojava!
As international campaign RISEUP4ROJAVA we call for a worldwide mass mobilization and actions against a Turkish invasion in Northeast Syria.
Join resistance or organize on:
19th October (central national wide demonstrations) worldwide.

Organize your self to Block. Disturb. Occupy governments, companies and financial institutions which support Turkish fascism militarily or financially.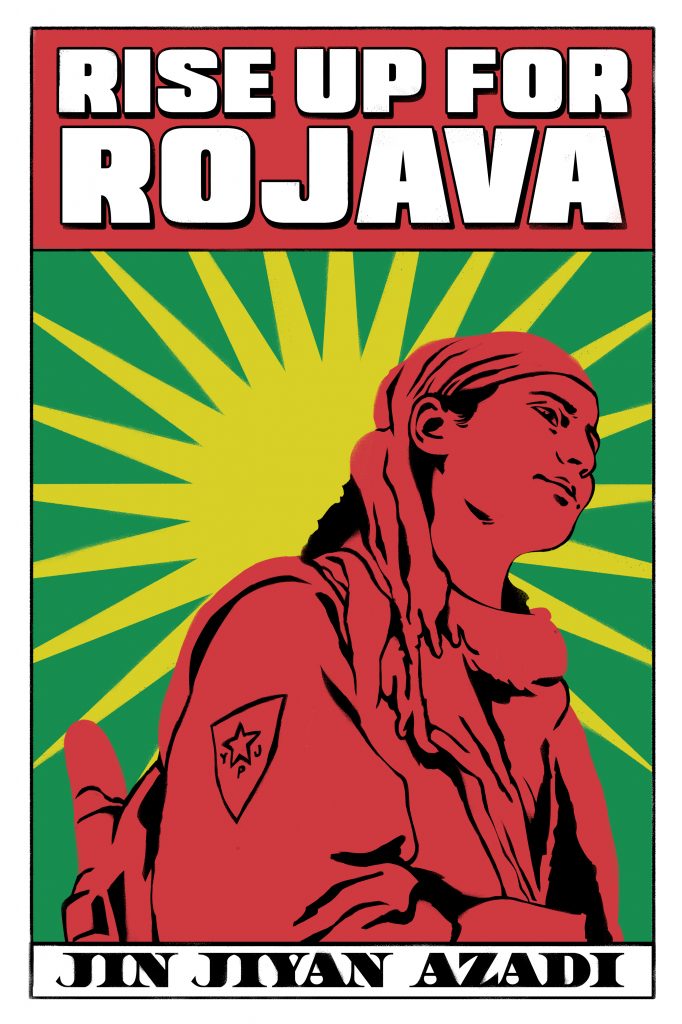 Call:
Seven years ago a revolution began in Rojava that was to radically change the lives of millions of people. The Kurds liberated themselves from the dictatorship of the Assad regime and began to organizethemselves in self-governed councils, communes and cooperatives. In particular, the autonomous organization of women became the driving
force behind the social revolution. Over the course of the struggle against the Islamic state, a unique multi-ethnic and multi-religious project developed, which today guarantees the peaceful coexistence of millions of Kurds, Arabs and Christians. The Democratic Federation of Northeast Syria is a unique example of the vision of a peaceful and
democratic Middle East and has therefore always been a thorn in the side of both regional powers and imperialist states.
Today the Turkish Army started its operation and has started bombardment many places are under heavy artillery attacks. Their goal is to wipe out the Democratic Federation. Several civilians have been killed already and thousand of people have started escaping the danger of ethnic cleansing and Turkish fascism. At the same time ISIS is using the
Turkish attacks for insurgency.
As the Internationalist Commune mentioned:
"The imperialist forces have decided to go to war. The troops on the ground are waving the flags of Turkey and of the Islamic State, but the decision was not only made in Ankara but also in the palaces in Washington, Moscow, Paris and Berlin."
In their wake, tens of thousands of members of Islamist gangs will march into Rojava and Northeast Syria. What this means is what we see every day in Afrin, the territory occupied by Turkey: murder, rape, torture and the expulsion of the local population. A new war would plunge Syria and the whole of the Middle East into renewed chaos and drive hundreds of thousands of people into flight from Turkish troops and their
Islamist mercenaries.
But if the Turkish government and its henchmen expect their extermination fantasies to become reality, they have not taken into account the resistance of the women's and people's defense units (YPJ/YPG) and especially the resistance of the people in Northern and
Eastern Syria. Those who have defeated the Islamic state through the sacrifice of thousands of martyrs and the courageous resistance of the population will defend the self-governing areas against a Turkish invasion. We must all do our part and fulfill our responsibility of defending this revolution!
The military, economic and diplomatic cooperation between Turkey, the USA, NATO and European countries must be exposed and politically attacked. No support for Erdogan, his regime and his war! No arms supply and no financial or political aid to the Turkish extermination policy!
If democratic movements decide to put the issue on the agenda: in the media, on the streets, in the factories, businesses and classrooms of their countries, then we can develop a common force against Turkey's war plans. We must build a permanent political resistance capable of preventing cooperation with Turkish fascism in our countries.
DayX – The moment has come – The war has started!
The situation is clear, we call for global resistance!
Take to the streets, take actions, occupy, disrupt and block!
Show those responsible in the government offices and company headquarters what you
think of their war! Together we can stop the war of aggression of Turkey!
No war against Northern Syria!
The revolution in Northeast Syria will win, fascism will be smashed!
Köln Ebertplatz 11:00
Hamburg Sternschanze 15:00
Frankfurt Hauptbahnhof 16:00
Berlin Potsdamer Platz (Historische Ampelanlage)13:00
Magdeburg Hauptbahnhof 17:00
Nürnberg Aufseßplatz 15:00
Stuttgart Lautenschlager Platz  15:00
Saarbrücken  Europa-Galerie 14:30
Freiburg Platz der Alten Synagoge 17:00
Hannover Hauptbahnhof 14:00
Leipzig Eisenbahnstraße Aldi 16:00
Jena Johannisplatz 15.00

Paris : 15h Place de la République
Strasbourg : 14h Place Kléber
Toulouse : 16h Métro Jean Jaurès
Rennes : 13h Place du Colombier
Marseille : 13h à la Canebière
Bordeaux : 14h au Grand Théatre
Lyon : 17h Place Bellecour
Athens Akademia meydanı 18:00
Thessaloniki Kamara meydanında 17:00
Heraklion Crete 13:00 Lion square

STOCKHOLM: 13:00 Humlegården
GÖTEBORG: 13:00 Heden
MALMÖ: 15:00 Triangeltorget
Genova 14.30 Maritime Station
Florence Tuscany 3pm
Poznań (Posen) at 12
Kielce and Częstochowa at 3pm.
Gdansk at 15, place:Fontanna Neptuna (Neptune Fountain)
UK:
Brighton, Churchill Square at 12.30.
Belgium:
Brussels Gare centrale 14.00
Canada
Toronto Ekim Cumartesi
6 pm&8pm
Ontario Parlementosu
Denmark
Kopenhagen Svanemøllen 13:00
Australia
Perth Murrey street Mall 1pm
Melbourne State Library 16:00
Switzerland
Geneva Rassemblement Square Chantepoulet à  14:30
Bern Grosse Schanze 15 Uhr
Austria:
Wien Oper 16 Uhr
Graz Griesplatz 15:00
Innsbruck Marktplatz 14.00
Czech
Prag Square Republik Prag 16.00
Finland
Helsinki Narinkkatori. 15:00
Turku: Vanha Suurtori, 13:00
Tampere: Keskustori, 18:00
Netherlands
Amsterdam  Waterlooplein 14:00
Italy
Bologna  – 19th Oct. 3pm at Piazza XX Settembre
Portugal
Lisboa Principe Real 3pm
Kosovo
Pristina, Teatri Kombetar 1 PM