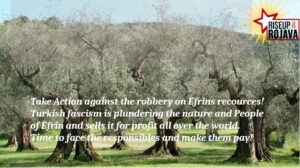 The fascist Turkish state and their islamist mercenaries are robbing the resources of Efrîn and selling them all over the world. The goods witch are mostly robbed and being sold are the rich Olive harvests and also fruits and vegetables. They are fabricated in Turkey and in the fabrics of kurdish farmers and citizens witch were displaced  by the occupiers and their property taken by the islamist gangs and militias.
Various products are made from the looted goods and then sold worldwide. The selection of products ranges from soap, spice blends, various vegetables and olive oil and olives.
The region of Efrîn is famous for its olive plantations and the "Aleppo soap" made from olives.
The looted goods are then packaged by various Turkish logistics companies and transported to Europe and North America, where they are sold both online wholesale and in small supermarkets and stores.
The benefit is being cutted and goes to the jihadist collaborators and Turkish colonizators.
Organisation of the Trade-Network of Efrîns robbed resources:
Here we provide you a summary of the largest networks and sellers known to date in Europe and North America (PDF-document):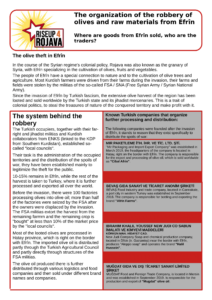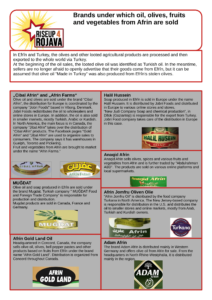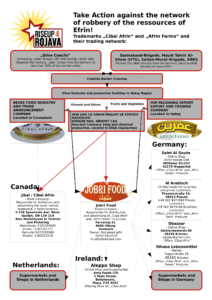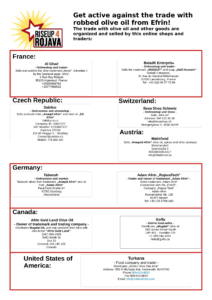 Flyers for Taking Action (EN/GER)

Posters for Taking Action (EN/GER)
Known logistics companies, distribution stations and Shops witch are selling Olive Oil and other goods from Efrîn:
Canada:


Jibal / Cibal Afrin
– Trade company –
Responible for distibution and advertising the same named trademark in North-America
5-226 Speedvale Ave. West,
Guelph, ON L1H 1C4
Also Warehouses in Toronto und Pickering
Warehouse: 5192289000
Jimmy : 4167251777
Hamude: 6472292990
Khaled: 2265012218

Afrin Gold Land Olive Oil
– Owner of trademark and trading company –
Distributes Mugdat OIL and own products from Afrin with own brand "Afrin Gold Land".
(647) 606-3399
8481 Keele St
Unit 15
Concord, ON L4K 1Z6
Canada
Goffa
– Online food-seller –
Distributes "Mugdat" olive oil
180 James Street South
L8P 4V1 – Hamilton ON
+1-289-244-4261
[email protected]
Czech Republic:

Sabilco
– Onlinestore and streetshop –
Sells products from "Anaqid Afrin" and olive oil "Zêr Afrin"
Sabilco s.r.o.
Company ID: 10667377
VAT Number: CZ10667377
Kurzova 222/16
155 00 Prague 5 – Stodůlky
[email protected]
Mobile: 774 800 447

France:

Al Ghad
– Onlineshop and trader-
Sells and publish the olive trademark"Jamal". Advertise it by the facebook page "Mira".
1 Rue Guy Môquet
95100 Argenteuil, France
+33603968765
+33777980533

Germany:

Taboosh
– Onlinestore and market-
Taboosh olives from trademark "Anaqid Afrin" and oil from "Adam Afrin"
Paul-Esch-Straße 67
47053 Duisburg
Deutschland

Adam Afrin "RojavaTech"
– Trader and owner of trademark "Adam Afrin" –
Owns trademark "Adam Afrin"
Connection with the "ENKS"..
Company "Rojava Tech"
Adam Afrin
Blumenrather Str. 128
52477 Alsdorf
Tel: +49 176 57981469

Salet Al Gouta
– Online Shop –
Zaher Baltah GbR
Wittener Str.222
42279 Wuppertal
– Offers "Cibal Afrin" and "Afrin Farms" Products

Al Arabisch
– Online trader for buisiness and privat customers –
Theaterstraße 23,
08523 Plauen
+49 162 9173362 Private customers
+49 162 9675166 Buisiness customers
-Offers "Cibal Afrin" and "Afrin Farm" Products

Obazaar
– Online Shop –
Amsterdamerstr.30
28259 Bremen
[email protected]
– Offers "Cibal Afrin"
Rihana Lebensmittel
– Market –
Fuggerstraße 18
48165 Münster
Offers "Cibal Afrin" and "Afrin Farms" Products
Ireland:

Aleppo Shop
– Online Shop and Supermarket-
Anta Foods LTD
2 Main Street,
Ballyhaunis,
Mayo, F35 XC67
Offering Olive Oil "Cibal Afrin"

Switzerland:



Besa Shop Schweiz
– Onlineshop und Store –
Sells "Afrin oil"
Adresse: 044 515 95 30
[email protected]
Metzgergasse 1, 5034 SUHR

United States of America:

Turkana
– Food company and trader –
Distributes "Jomfru Olive Olie Afrin"
Address: 555 N Michigan Ave, Kenilworth, NJ 07033
Phone:908-810-8800
Fax:908-810-8820
Email:[email protected]