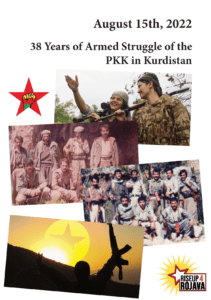 The 15th of August and the ongoing and unbroken guerrilla warfare in Kurdistan is the proof nothing is impossible and the hope for another world does not have to stay a dream or distant utopia. This brochure shows the impression of this reality and can become a source of inspiration and power for the readers in the imperialist metropolises. This makes it even more important to take this knowledge of the past 38 years of the revolutionary movement and to make it accessible and to collectivize it. With this one and many other brochures and texts there were many steps taken in this direction, but still there is a sheer infinite treasure trove of experience and knowledge concealed. It is the task of all of us to appropriate this knowledge, to study the experiences of the revolution in Kurdistan on the basis of authentic material and to incorporate them in the fights for freedom worldwide.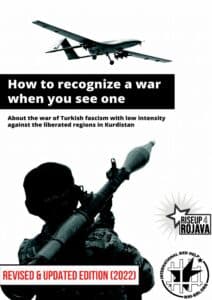 "How to recognize a war when you see one": A Brochure by the International Red Help and Riseup4Rojava about Turkey's "low intensity war" against the liberated regions in Kurdistan (Rojava, Qandîl, Şengal) and the need to act as if it was a classical large scale war.
Click on your language to download the Brochure:
English revised & updated edition (2022)
German überarbeitete & aktualisierte Editon (2022)
French édition revue et actualisée (2022)
Castellano edición revisada y actualizada (2022)
Catalan edició revisada i actualitzada (2022)
Italian edizione rivista e aggiornata (2022)
Greek
In this book you will find interviews with people from different places and fields of work in the revolution in Rojava.
They give an insight into the reality, difficulties and achievements of the revolution in Rojava.
We are very happy to provide you with this document of the historical resistance of the people of Northern and Eastern Syria.
You can download it with clicking on the picture or here.
You can find a high quality version here: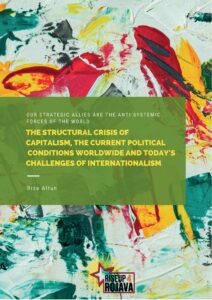 What is the international significance of the revolution in Kurdistan, what are the successes and challenges?
In a comprehensive analysis, Riza Altun, member of the Executive Committee of the PKK, addresses these questions and makes a comprehensive analysis of the chances of revolutionary internationalism in the 21st century.

English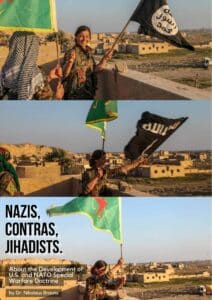 A booklet by Journalist & Historian Dr, Nikolaus Brauns describing on how the U.S. and NATO developed the concept of special warfare after World War II against the backdrop of the Cold War and decolonization. The booklet was originally published by the #RiseUp4Rojava campaign, the Swiss organization "Revolutionärer Aufbau" and the Resistance Network Zurich.
The booklet was later published in different Languages in the No7 of Lêgerîn Magazin